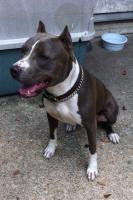 Location:
United States
» Louisiana
» Baton Rouge
I have a UKC PR 3/4 Gotti 1/4 Razorsedge Female in heat with a nice ped and looking to breed her. Looking for someone with a solid PR Male interested in doing or pup back deal.
Here is her ped:
http://www.bullypedia.net/americanbully/details.ph...
Let me know if you are interested.
Email:Abake17@lsu.edu
Phone:318-613-2563